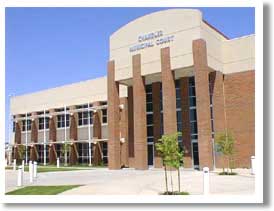 If you have been charged with Driving Under the Influence (DUI) in Chandler, Arizona there are a number of things you will want to be aware of:
The Chandler City Courthouse location and address is:
Chandler Municipal Court
200 E. Chicago St.
Chandler, AZ 85225
Directions:
200 E. Chicago Street in Chandler is located 3 blocks south of Chandler Boulevard and 2 blocks east of Arizona Ave., next door to the Chandler Police Department, in the historic downtown area.
The Court Hours are:
Monday through Friday, 8 a.m. to 5 p.m.
Closed during the following holidays:
New Year's Day
Martin Luther King Jr Day
Presidents Day
Memorial Day
Independence Day
Labor Day
Veterans Day
Thanksgiving Day
Day after Thanksgiving
Christmas Day
Courtroom Standards of Conduct
As your case proceeds through the Chandler Municpal Court system, you are expected to observe the following Courtroom standards:
No weapons, food, drink, or gum chewing in the Court building.
While in the courtroom, sit quietly when Court is in session. Do not chat or whisper with friends or relatives. The Court proceedings are being recorded and background conversation can interfere with the audibility of this important record.
Avoid reading newspapers or books in the courtroom, particularly if your use of such material is a distraction to others.
When addressing the Judge or Hearing Officer, stand a few feet back from the bench. Do not lean on the Judge's or Hearing Officer's bench.
Observe appropriate standards of attire. While clothing need not be formal, it should be clean, neat and in good repair. Shoes and shirts must be worn and T-shirts which carry offensive slogans or pictures are not allowed. Hats should be removed before entering the court building.
Avoid bringing small children to Chandler Court. If it is necessary to do so, please monitor their behavior so that they remain quiet at all times. Parents may be asked to leave the courtroom if their child becomes noisy or unruly.
If convicted of DUI, DWI, Extreme DWI, Felony DUI or DUI Drugs in Chandler Arizona you face:

Fines (Plus Jail Costs): $2,500 or more
Loss of Driving Privileges: Revocation For At Least 3 Years in Some Cases
You will want to have experienced legal representation if you have a DUI in Chandler, Arizona as these penalties and fines are some of the most strict in the Country. If convicted you will be facing jail time, serious fines, and long term legal issues that will affect your personal and professional life. You can learn more about how the DMCantor and help with your DUI case in Chandler Arizona by clicking here.
Click here to see a Complete List of our DUI Victories.
Clicking this button will take you to our main website: DMCantor.com
If you would like more information about how we handle cases at the Chandler Municipal Court, please email us and we'll get back to you as soon as we can.