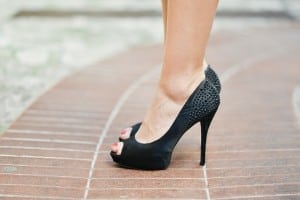 The summer months are upon us. That means many people will be heading out to enjoy a Friday or Saturday evening out—either at a restaurant or bar. Adults like to unwind from a busy work week by having an alcoholic beverage or two. Although one or two alcoholic beverages won't get most people "drunk" per se, this is probably enough to cause a bit of intoxication.
The size and weight of an individual can determine the amount of alcohol it takes to become intoxicated. Generally, the less body mass, the less alcohol
it takes to start feeling tipsy. According to the Center of Disease Control and Prevention, the average male in the United States weighs 195.5 pounds
while the average female weighs 166.2 pounds. All things being considered women weigh, on average, less than men. This creates the potential for less alcohol to be consumed in order to reach intoxication.
When out on the town, many women enjoy dressing up and treating themselves. Dressing up can mean wearing high heels as high as three or four inches.
When walking in heels, it is often harder to maintain balance and walk a straight line even when alcohol has not been consumed.
There are a few scenarios in which high heels can be a defense in a DUI case. In addition, The National Highway Traffic Safety Administration (NHTSA) SFST Student Manual and the Kentucky Department of Criminal Justice Training DUI / Standard Field Sobriety Basic Training Manual states, "Individuals wearing heels more than two inches high should be given the opportunity to remove their shoes."
In the state of North Carolina, a woman wearing 3 1/2 inch stiletto heels failed the walk and turn and one-legged stand field sobriety tests administered by a police officer. The DUI lawyer defending her argued successfully that it was "fundamentally unfair" to think that the woman could pass the tests.
Just because you are wearing heels, does not mean you should drink and drive. That said, if you are not intoxicated beyond the legal limit and you are forced to complete a field sobriety test, this is something to keep in mind. Allow an experienced and respected DUI lawyer to explain your options moving forward.
While some will utilize the BAC calculating apps for their iPhone or Android it is always the wisest decision to contact a cab, use a designated driver or use the Uber app for your Smartphone. Uber makes it very easy for individuals to travel from point A to point B without having to get behind the wheel of a vehicle while intoxicated.
In Scottsdale, Ariz., there are many Uber drivers who are vying for your business. With all the information stored in your phone you do not have to worry about trying to give them cash or a credit card number.
Enjoy some fun summer nights out on the town but drink responsibly or contact a sober driver to get you home.
This blog post was proved by Attorney John Mac Hayes. Hayes is one of the most distinguished DUI lawyers in Oklahoma City. With decades of experience, he can help create a defense for you if you have been given a field sobriety test while wearing high heels.