People really love to go out and party for Halloween. Whether they are at a house party, going to bars, or just hanging out with neighbors or friends, Halloween is one of those holidays that really brings out fun times. One word of caution, don't end up like this: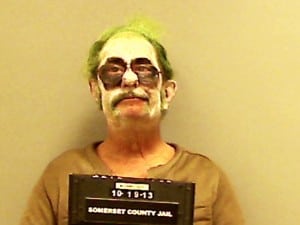 If you have been out drinking during Halloween and dressed as the Joke from Batman, you should probably call a cab. You may be forever known by your mug shot, dressed as a comic book character. In all seriousness, if you are going to drink, please do it responsibly and call a cab or have a designated driver. Or you may end up arrested for DUI !
The 2013 East Valley DUI Task Force will be out this year for the Halloween holiday. Many people like to get dressed up in costumes and go to parties or go out to bars and really like to have a good time. Other likely scenarios involve parents hanging out and drinking or having a BBQ while their kids are trick or treating. If you are in any of these scenarios you should act responsibly and have a designated driver or call a cab.
The DUI task force will pull over anyone who is driving and they suspect of being intoxicated behind the wheel.
If you are stopped by the DUI task force remember the only answer you give to law enforcement is: "I'd like to speak with my lawyer first before answering any questions or taking any tests." This will help your cause at a later date if you end up being arrested for DUI.
If you know you are going to be out on the town for Halloween, make sure you have our phone number in your cell phone, put (602) 560-4004 in your phone under the contact as Lawyer. If you get in a bind, give us a call and we'll give you advice on how to handle the situation. Have a fun and safe Halloween!
David Cantor explains what to expect for the Halloween DUI Task Force:
If you were cited for DUI during Halloween 2013, give us a call to schedule a free consultation. Our office are available 24 hours a day by calling (602) 560-4004 or by using our confidential web form.
Thanks to the Smoking Gun for the image!