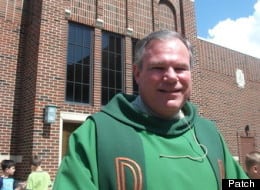 The Archdiocese of Detroit has put Rev. Peter Petroske under indefinite suspension after allegedly driving naked and drunk through Dearborn, Michigan. Rev Petroske has been a pastor of Sacred Heart parish, and Catholic Church, since 2008.
He was arrested late Thursday night, according to the Detroit News, and is facing charges of disorderly/obscene conduct and operating a vehicle while intoxicated. Petroske was alone in the vehicle with his laptop and tests showed that his blood alcohol level was just over the legal limit.
The Archdiocese did not learn of the incident till after Sunday Mass which the Reverend was still able to perform for his parisoners.
In Arizona the Reverend would be facing charges of Indecent Exposure and Driving Under the Influence(DUI).